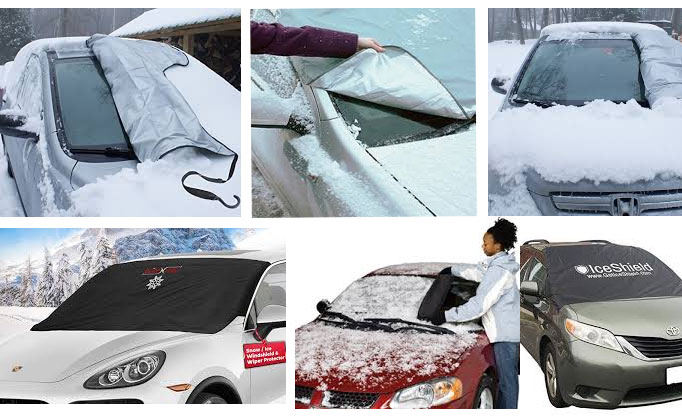 One of the most horrible things about having to wake up on winter mornings is frozen hands and fingers from scraping all that ice and snow from your car windshield. Not a very delightful feeling, to be honest.
Imagine getting some extra time, those few more minutes to spend in your cozy bed or the warmth of your house, on snowy mornings?
Nobody would like to waste time and energy on cold, freezing mornings trying to scrape ice from the windshield of their car and it surely isn't the most ideal way to start your day. But not to worry as there is a solution to every problem, which is when windshield snow covers come to the rescue. A windshield snow cover provides you with a hassle-free way to save your car's windshield from the snow. It might be one of the best investments you'll make for your car and you'll thank yourself for it.
There is a huge variety of best windshield covers available in the market which you can wrap around your vehicle. Its installation normally takes only a few seconds so you don't need to get worried about any hassle, plus it protects your vehicle from not only snow but also any kind of debris that would otherwise cause you trouble early morning at the very start of your day.
Say goodbye to going through the hassle of ruining your winter mornings because we've listed some of the best windshield covers for those cruel, freezing mornings that will efficiently protect your car's windshield from snow to help make your day start better.
You may also like: Officeonecoke Reviews
#1 – Evautolution Premium Windshield Snow Cover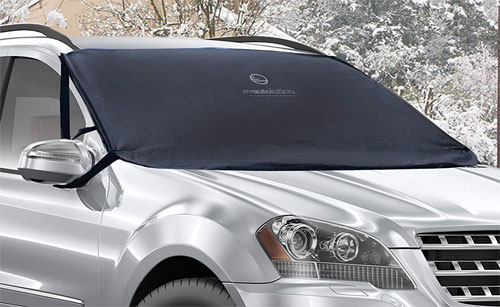 The Evautolution Premium is probably one of the most preferable windshield snow covers to protect your vehicle from snow, frost or any other debris to save you from any morning hassle that may otherwise occur.
The Evautolution Premium is manufactured with top-quality material which is also waterproof. It assuredly protects your car from the snow without you having to get worried about it getting wet. It makes sure you don't have to settle for anything but the best!
Moreover, it's innovative design offers a way out in case you live in windy areas as well. The snow cover comes with a heavy pole to make sure that it doesn't fly off because of the heavy wind. Apart from that, for the installation, its straps allow you to adjust it from the inside of your car which makes it completely theft-proof. This means you don't have to be worried about any thieves that may otherwise mess about with your amazing snow cover.
Its standard size is 61 x 40 inches, which is a good fit for a large variety of vehicles. It also comes in a larger size in case you have a larger vehicle.
Finally it is snow-proof, windproof, theft-proof and waterproof! It is surely an all-rounder!

PROS:
It is long-lasting and durable
It has the ability to survive all weather conditions
It provides a highly secure installation

CONS:
It is not fold-able
Its storage is difficult
It does not fit smaller vehicles
#2 – SnowOFF Car Windshield Snow Ice Cover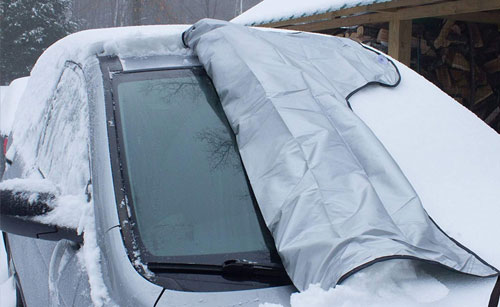 The SnowOFF Car windshield cover makes sure that it makes your frosty mornings better. It has a simple design but it gives maximum protection to your car.
It comes in two adjustable sizes to fit most types of vehicles as well as RV windshields.
The SnowOFF snow cover also functions as a sunshade. Even more so, it is waterproof and very reliable for windy conditions. It comes with anti-theft suction cups to secure the cover to the inside of your vehicle's windshield. But that's not all. It won't just help your car but you too! How? A Microfiber Demisting Cleaning Cloth and Emergency Survival Blanket come along with the snow cover! This blanket helps you in case of a breakdown to stay warm and alive.
Does it end there? Absolutely not! The snow cover has no harmful magnets but instead, it comes with straps to ensure a secure installation.
It is also hassle-free because its removal takes only a matter of seconds. Peel it off, shake the snow and you are ready to go! Could this get any better? Probably not.
The Snow OFF snow cover is so cool that you can not only get it for yourself but also your friends! Leaving all your neighbors jealous as they scrape snow in the cruel, freezing mornings while you relax.

PROS:
It is very simple to remove, takes only a few seconds
It comes with a storage bag of its own
It is also water-proof

CONS:
It only fits large vehicles
#3 – EzyShade Windshield Snow Cover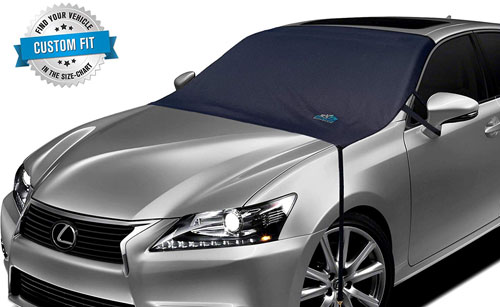 EzyShade provides its customers with a high-quality windshield snow cover to help keep your car safe from snow, sun, rain, and wind, no matter what the weather. Its material consists of superior fabric to give you their best.
It offers its customers a size chart from which you can check and be assured whether it fits your car or not. Moreover, most of their sizes give a custom-like fit.
It provides you the ability to secure the cover rightly to the insides of the car. EzyShade also comes with a gift. This bonus product is a non-slip sticky dashboard mat through which you can make sure you can keep your items gripped such as your phone as you drive to provide more convenience.

PROS:
It consists of superior quality fabric and material
It has a very long-lasting usability
It doesn't have any scratchy magnets
It helps survive extreme weather conditions

CONS:
Its sizes don't fit several vehicles
It isn't fold-able
It has a very unflattering design
#4 – Universal Fit Windshield Snow Cover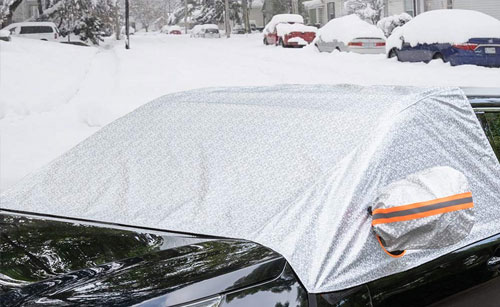 One of the best qualities about the Universal Fit snow cover is that it provides efficiency and durability. The PEVA's front side has an aluminum foil texture to make sure that the cover can also be utilized as sunshades in the summer. Other than that, it is, of course, rainproof and frost-proof. With its durability, it can definitely last for years.
The backside of the cover is soft and consists of microfiber cotton which saves your car from any damage that could otherwise occur. The Universal Fit Snow Cover has all the qualities that you'd want a snow cover to have.

PROS:
It provides high durability
It is suitable for all weather conditions
It is adjustable to fit most car sizes

CONS:
It cannot be folded
It does not have an aesthetic design
It consists of magnets that could potentially scratch the car if not dealt with properly
#5 – Shynerk Magnetic Edges Car Snow Cover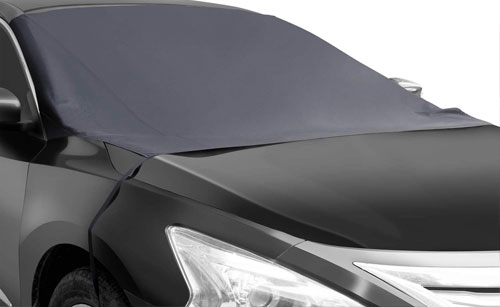 Shynerk Magnetic Edges offers its customer a snow cover that works as a truck windshield snow cover, SUV truck windshield cover or car windshield snow cover.
The cover is a complete package in terms of protection. It is safe of theft, is water-resistant, also scratch-proof and it can survive extreme temperatures. Moreover, it is sturdy and provides high durability. What more could anyone ask for?
Apart from that, it is fold-able & its storage is easy. This snow cover is extremely lightweight and it comes with a bag that makes it more convenient to store or to travel with it.

PROS:
It comes with its very own bag where you can store it
It's very easily fold-able
It has a variety of sizes which can fit most car models

CONS:
It is time-consuming to install
It comes with magnets that may potentially cause scratches
Bottom Line
A windshield cover is extremely useful yet cheap investment items that will help you avoid hassle on early winter mornings. A windshield covered with snow is something that a lot of people dread in the morning and this just fixes that problem too well.