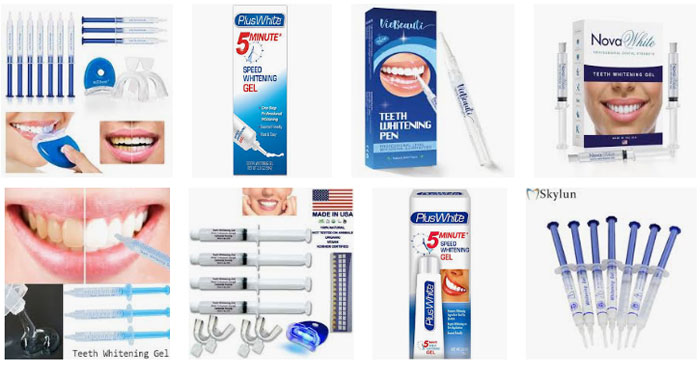 Wanna know something interesting? Woman laugh more than men: A fact backed up by research. An average man smiles eight times per day while an average woman shines their pearly whites 62 times a day.
Regardless of gender, we believe your smile has the power to make an immediate impression when you first meet someone. And of course the whiter your teeth…the brighter your smile! Can't afford the costly whitening treatment by Dentist? Well, lucky for us, we have teeth whitening gels at our disposal today.
Now here is a thing!
The natural color and the makeup of the person's teeth cannot be changed, but only thing whitening gels can help you with is get rid of the stains that have built up over time.
In the already crowded market of teeth whitening gels, finding a product that does not damage your precious teeth and actually gets the job done, is no easy feat.
You may also like: Brushing Your Teeth | Cleo Coco Deodorants Reviews
And that is why we have gathered up 5 best teeth whitening gels for you that are worth your spending time and money.
#1 – Smileactives Power Whitening Gel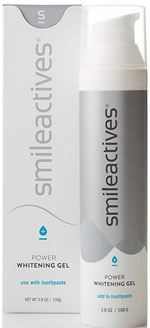 The power whitening gel by Smileactives is surprisingly effective and gives you the most radiant smile in no time. The Gel substance penetrates through enamel pores to get rid of the stubborn coffee, cigarette and tea stains.
What we love about smile actives gel is the ease of use it provides. Imagine whitening your teeth in the comfort of your home without going through the hassle of a dentist's appointment. No trays, No caps air scraping involved, just mix the Gel into your toothpaste (according to the instruction) and brush away the stains to reveal those pearly whites underneath. Isn't that just amazing?
Unlike other cheap and non-effective whitening products, the Smileactives whitening gel is clinically tested and approved on 16 subjects.

PROS:
Extremely easy to use
Mess-free application
Works for people with crowns and veneer teeth
Effective and quick at-home teeth whitening treatment
Whiten the teeth all around
Well worth the money
Free from harsh chemicals

CONS:
#2 – Venus White Pro Whitening Gel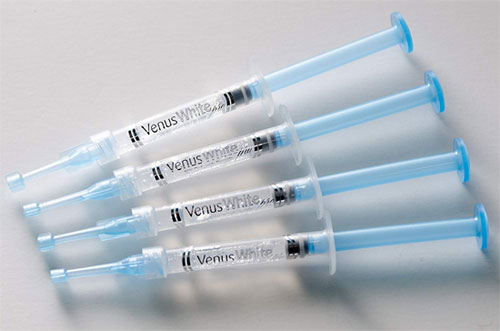 Venus White Pro is a professional DIY whitening kit for people who are looking for ways to shine up their teeth from the comfort of their home. The Kit is available in various concentrations according to the patient's dental needs.
The 22% carbonize peroxide available in this Gel is what makes it an effective DIY whitening product. For best use, you should apply the Gel on mouth tray at night time for about 30-60 minutes depending on the outcome.
The tray helps the Gel to penetrate through the enamel and get to the nooks and crannies of your stained teeth. It helps lift the stained and reveal the whiter teeth underneath.

PROS:
Effective and easy to apply
Offers a 360-degree bright smile
The only a small amount gets the job done
Reasonable price
Tested on people with positive results
No sensitivity

CONS:
No expiry date on the product list
#3 – Professional Home Teeth Whitening Kit by LDREAMAM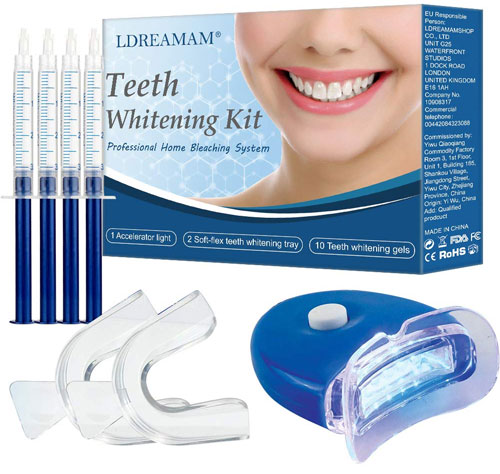 Got yellow teeth but can't afford expensive teeth whitening sessions? Worry not because you are not alone. Luckily, the Professional home teeth whitening kit by LDREAMAM has got you covered.
It is a complete whitening kit that includes 2x mouth trays, 10x Gel syringes, 1X whitening accelerator light and 1x color cars.
By the looks of it, the process looks intimidating, but in reality, it is quite simple and effective. You just have to apply the Gel to mouth tray and insert the mouth tray on the teeth. Afterwards, attach the optical light to mouth tray to accelerate the whitening process.
The advanced technology really helps your teeth dispose of the residue build-up and yellowness. You will notice the effect instantly. You can conveniently use it any time of the day, and the ten gel syringes will last you for a long time.
At this price point, this product is a total steal.

PROS:
Professional whitening tools
Optical light for maximum brightness
Inexpensive
Gets rid of hard stains
Low sensitivity

CONS:
Light may feel hot on the gums
#4 – Linhart Teeth Whitener Gel for Sensitive and Normal Teeth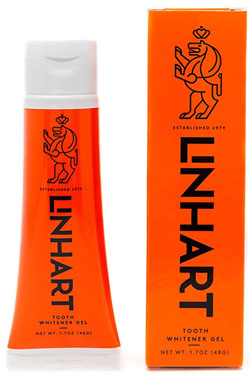 If you are one of those people who don't like trays in their mouth and the idea feel awkward to them – well Linhart teeth whitener Gel is your best bet. Effective, convenient and cheap! That is exactly what this Gel is all about.
Hydrogen peroxide is the safest substance used for teeth whitening by dentists and Linhart also includes it in its Gel which makes this a product that actually whitens the teeth.
The Gel is as easy to use as 1, 2, and 3. Ideally use it once a day with or without toothpaste – however, you fancy! For people with sensitive teeth, it is a lifesaver because this gel is non-abrasive and free of harsh chemicals so you can enjoy the pain free whitening experience.

PROS:
Easy application
Suitable for sensitive teeth
Chemical-free
Really makes a difference
With the guarantee of Linhart expertise

CONS:
#5 – AuraGlow Teeth Whitening Gel Syringe Refill Pack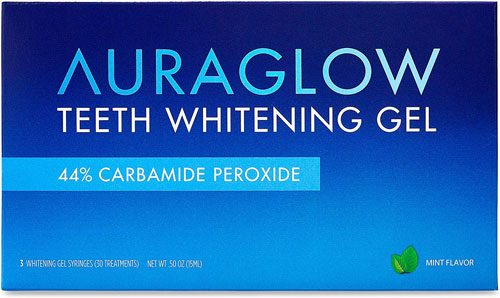 Your smile makes you stand out, and your teeth are what makes your smile more radiant. With AuraGlow teeth whitening Gel, turn your yellow gold teeth into pearly whites.
This Gel is immensely popular among teeth hygiene enthusiasts because of its effectiveness and ease of use. The 5 pack gel syringe refill pack will last for a long time because each Gel contains ten whitening treatments.
It contains dental-grade carbamide peroxide in pleasant mint flavour that helps get rid of the years of stains caused by tea, coffee and wine consumptions.
Keep in mind that this is a bleaching gel, so it is not suitable for sensitive teeth. You can use the Gel with the mouth tray (not included) or just paint it across your teeth.

PROS:
Cruelty-free
Safe for veneers and crowns
Made in the USA
Highly effective and instant results guaranteed

CONS:
Mouth try not included
Not suitable for sensitive teeth